Planking Can Reduce Risk of Debilitating Injuries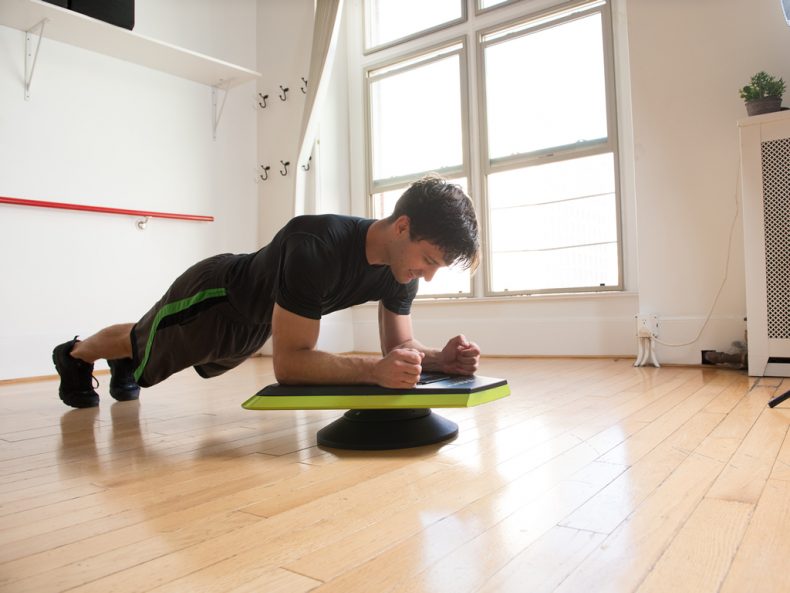 We all know that core strength is important to our overall health. Having a stable core can improve your muscular-skeletal system, which can help reduce your risk of painful, debilitating injuries, which can eventually lead to surgery – or worse – permanent loss of range of motion.
This is why it's vital to work out your core and keep it in peak condition.
One exercise enthusiast shared her reasons for regular planking.
"My mom was diagnosed with severe degenerative disc disease. After three failed back fusions and two back fusion redos, my mom is now handicapped, cannot drive and is nearly housebound.
Her surgeon said that my brother and I required testing because it was a hereditary condition. Following the advice of my mother's surgeon, I got tested, which showed at a mere 35 years of age, I did have some arthritis and mild lower back damage.
The doctor said that with a strict exercise program that focused on building core strength, I could potentially avoid the injuries my mom suffers from and not be subject to surgeries later in life.
Determined not to become a statistic, I threw myself into working out to focus on my core strength, because it helps stabilize the lower back, reducing the risk of injury.
I began working out with an experienced trainer that highly recommended planking exercises. By doing regular planking, my core strength has increased dramatically, and at the age of 38, I can complete over 70 sit-ups in two minutes. Without planking, my core would never be as strong as it is now and I've set myself up to help avoid becoming a statistic like my mom."
Another reason to avoid spinal surgery is that out of the 400,000 people in the U.S. that undergo some form of spinal surgery each year, nearly 40% report experiencing some postoperative complications. This doesn't include the mental and emotional toll these complications take on people's health. Healthcare professionals strongly advocate developing a strong core to help avoid debilitating back injuries.
Unfortunately, the reason many people abandon planking is that they deem it boring and their mind wanders. For planking to be effective, it's crucial that people start out slow and build their way up.
But what is someone supposed to do for minutes at a time while they focus their efforts on maintaining proper form and not moving? Human nature is to move, and that's a hard urge to tame.
A recent study conducted by a kinesiologist at Penn State examined static and dynamic muscle activity over the course of a variety of exercises. Static exercises include contracting muscle fibers while the body performs little to no movements. Dynamic exercises, on the other hand, involve joint movement.
The study analyzed muscle activities and the external abdominal obliques. The equipment and exercises examined included the static forearm plank, Bosu Ball, Rocker Board, Ab Dolly M-Pad Balance Trainer and the Stealth Core Trainer.
The Stealth Core Trainer excelled beyond the competition – rating far higher in the effectiveness and enjoyment categories, with participants saying they would definitely use the Stealth Core Trainer regularly.
What makes the Stealth Core Trainer different from the competition?
The Stealth Team developed the world's only ab strengthening machine that uses your phone to play games and compete, which challenges you to new levels."
The way it works is simple: you insert your Smartphone into the Stealth Core Trainer and download the Stealth Gaming App. Get into the plank position and start playing games, which helps distract your mind from the static exercise you are performing, and compete against other people to win.
This new game-play technology that focuses on competition is similar to what many other workout programs are doing – including exercise bikes.
The theory is those people that workout together, help motivate each other and stay fit. Additionally, people that can compete and play games while they exercise are more likely to continue working out and stay in better shape.
ADVERTORIAL: THIS IS AN ADVERTISEMENT AND NOT AN ACTUAL NEWS ARTICLE. THE STORY DEPICTED ON THIS SITE ARE NOT ACTUAL NEWS. RATHER, THIS STORY IS BASED ON THE RESULTS THAT SOME PEOPLE WHO HAVE USED THESE PRODUCTS HAVE ACHIEVED. THE RESULTS PORTRAYED IN THE STORY AND IN THE COMMENTS ARE ILLUSTRATIVE, AND MAY NOT BE THE RESULTS THAT YOU ACHIEVE WITH THESE PRODUCTS. THIS PAGE COULD RECEIVE COMPENSATION FOR CLICKS ON OR PURCHASE OF PRODUCTS FEATURED ON THIS SITE.